The 2021 Subaru Love Promise Customer and Community Commitment Award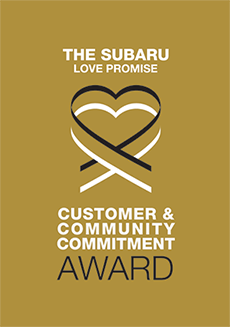 We've been nationally recognized for our dedication to our customers, our community, and the Subaru Love Promise.
We're honored to receive the 2021 Subaru Love Promise Customer and Community Commitment Award. This award nationally recognizes elite Subaru retailers who provide an exceptional customer experience at every interaction with Subaru. These retailers have also demonstrated an outstanding commitment to supporting passions and causes in their local communities in important areas such as the environment, community, health, education, and pets.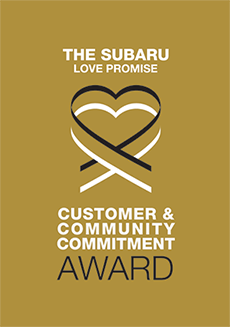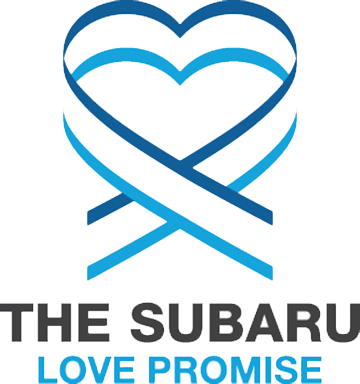 What is the Subaru Love Promise?
Subaru and our retailers believe in making the world a better place and the Subaru Love Promise is our vision of respecting all people. This is our commitment to show love and respect to our customers and to work to make a positive impact in the world.
How is Gillman Subaru Southwest dedicated locally to the Love Promise?
Our Love Promise can be seen in various partnerships with local charities and non-profits. We're grateful for the opportunity, not only to be a part of our community, but to serve it as well.
Greyhound Pets of America Houston Chapter
Buffalo Bayou Partnership
Love Promise Stories from Gillman Subaru Southwest
Subaru and Gillman Subaru Southwest believe in making a positive impact on the communities in which we live and work. We uphold that belief through our Love Promise Community Commitment. Every month, we select inspiring stories from customers and partners from around our area who strive to support our collective commitment and feature them here
Subaru Share the Love - Leigh M
We are truly honored to work with Gillman Subaru Houston Southwest on this successful program and greatly appreciate all of the efforts of your extraordinary team! The generous campaign donations received will allow for the continued care and activation of the 10-mile stretch of the bayou that flows from Shepherd Drive, through the heart of downtown into the East End, and onto the Port of Houston Turning Basin. With committed friends like you lending a hand, our non-profit organization maintains green spaces including Buffalo Bayou Park, develops hike and bike trails, plans for new parks, and removes trash and debris from the waterway. BBP also engages tens of thousands of visitors each year through unique tours, public art, volunteer activities, and wide-ranging programs and events including the annual Regatta. Thank you once again for partnering with us, and we look forward to continuing our transformational work with Buffalo Bayou with you and Gillman Subaru.
---
Gillman provides blankets during historic storm - Isha D
The week of February 15th, Houston had a storm of the century. Days without electricity or water with temperatures below freezing for multiple days. As part of the Subaru Loves to Care Initiative, Gillman Subaru Houston presented blankets to the residents of The Turning Point Center. The center houses 70 residences with the goal of providing a variety of supportive services to help return the homeless elderly to society. The blankets provided an extra layer of warmth for everyone during this major storm in our community.
---
Major Milestones Reached Thanks to Gillman Subaru - Jessica M
Thanks to the dedication of friends like Gillman Subaru-Houston Southwest, Buffalo Bayou Partnership (BBP) has been successfully transforming Houston's historic waterway for over thirty years. With the donations received from Subaru's Share the Love event, Buffalo Bayou Partnership recently reached these major milestones: • Continued maintenance and operations of the 160-acre Buffalo Bayou Park and received the prestigious Rudy Bruner Award for Urban Excellence 2019 Silver Medal Prize. • Presented the art installation Carlos Cruz-Diez at the Cistern (May 2018-April 2019) that attracted over 36,000 patrons. • Exhibited the New Monuments for New Cities collaborative public art installation with the High Line Network from February to August 2019 in Buffalo Bayou Park. • Attracted over 17,000 visitors to Buffalo Bayou, in addition to thousands of recreational users, by presenting numerous events, including an annual Regatta sponsored by Gillman Subaru; pontoon boat tours; walking tours; wellness activities and programs. • Engaged 2,500 volunteers in cleanup and restoration activities. • Completed planning and design for a downtown trail linking Allen's Landing to McKee Street and also completed planning and design with CenterPoint for a trail segment connecting downtown trails into the East End. • Continued sponsorship of the Clean & Green Program where community service workers remove litter and debris from Buffalo Bayou, its tributaries and the Port of Houston. Approximately 12 miles of the waterway were maintained and over 1,500 cubic yards of trash and debris collected. Through its efforts to revitalize and activate Houston's most significant natural resource, Buffalo Bayou Partnership is strengthening public health, spurring economic development, preserving the environmental and cultural history of Houston for generations to come, and stimulating a true renewal of our civic commons.
---
Friends for Life Partnership - Lena L
Gillman Subaru Southwest has been an incredible partner for the last two years. Between the latest #Share the Love event, and naming Friends for Life as a beneficiary of their Grand Opening Event, the team at Gillman Subaru share their love for the Houston community. We are excited to have them on-board to sponsor this weekend's Drive-Thru Clinic + pet Food Bank. The clinic provides free wellness checks, vaccinations, preventatives, testing, and food to those struggling to care for their pets. Things can feel uncertain minute to minute these days, and it's easy to get lost in all of this. We're so humbled to have a partner who helps alleviate some of the burden on families, as we get them services that help all of Houston. That's #unsheltered work. That's what is means to #BeUnsheltered.
---
Gillman Subaru Grand Opening and Pet Adoption Even - Heather M
Friends For Life participated in the Gillman Subaru Big Event Grand Opening! This event gave our organization a lot of exposure and introduced people to our no-kill shelter model in Houston designed to save animals regardless of their breed, age or condition. We had quite a few people inquire about both the adoptable dogs and cats at the event. Our animals loved playing with all of the attendees in the specially designed Subaru Loves Pets Dog Park!
---
Gillman Subaru walks w/ AIDS Foundation Houston - Lauren B
On March 3rd Gillman Subaru South and thousands of Houstonians teamed up with the AIDS Foundation Houston to end HIV/AIDS. The walk was held at Sam Houston Race Park and Gillman Subaru came out to show their support. Our event raises money to support local AIDS organizations. HIV/AIDS is a global epidemic, but hope beings at the local level and Gillman Subaru proved that. Thank you to Gillman Subaru for being a cooperate sponsor and being passionate about our cause!
---
Gillman gives Blanket of Hope - Houston Methodist - Julie M
Through the "Subaru Loves to Care" initiative and Subaru South's partnership with the Leukemia and Lymphoma Society, they dropped off "Blankets of Hope to the Houston Methodist Cancer Center. These blankets serve as a sign of encouragement to patients in the cancer center. The blankets will be donated to Houston Methodist patients in the Hematology Oncology clinic as well as other areas. Thank you Gillman Subaru!
---
Gillman Subaru Delivers Books to MCMS - Tammy G
On October 4th the staff of Gillman Subaru South dropped off books at Missouri City Middle School. Gillman Subaru staff explored the library and presented the new books to our student library assistant. Gillman Subaru donated books that will further advance our students knowledge on various science topics. Books covered topics such as: the future of whales, the history behind Apollo 8 and the hidden stories behind our global structures. Thank you, Gillman Subaru!
---
Friends for Life Adoption Event - Lena L
At Friends for Life, every animal matters! Friends for Life provides a no-kill shelter model to Houston- saving animals regardless of their breed, age or condition. Gillman Subaru and Friends for Life partnered for the Dog Days of Summer Adoption Event on June 8th. Customers and their furry friends enjoyed a day of James Coney Island and Snow Cones!
---
Gillman Subaru Delivers Warmth to Patients - Ashlee V
On July 25th, the staff at Gillman Subaru delivered blankets as a symbol of not only warmth but hope to patients at Houston Methodist hospital in the Houston Medical Center. The staff met with 2 Houston Methodist blood cancer doctors during the blanket delivery who thanked the staff for this great gift for their patients. The blankets will be delivered to patients at Houston Methodists in the Hematology Oncology outpatient clinic and Bone Marrow Transplant area of the inpatient clinic.
---
Gillman Subaru SW and Leukemia & Lymphoma Society - Charley T
Eliel and Gillman Subaru Southwest have been wonderful partners with the Leukemia & Lymphoma Society. For the 2nd year in a row they have donated blankets to Methodist Hospital and this year have also included craft kits for kids. Thank you!
---
Subaru and NWF Loves the Earth - Tony T
Our garden makeover looks great at our school, thank you Subaru!
---
Gillman Delivers Blankets of Warmth - Ashlee V
Gillman Subaru Houston and the Leukemia & Lymphoma Society literally brought warmth and hope to hundreds of patients fighting cancer at The Houston Methodist Hospital in Houston. The project is an extension of Subaru's Love Promise designed to help communities come together to make an incredible impact. Gillman Subaru partnered with the local chapter of the Leukemia & Lymphoma Society to deliver blankets, arts and craft kits and messages of hope to patients undergoing treatment at the Methodist hospital. Throughout June, visitors to Gillman Subaru were given the opportunity to share personalized, hand-written messages of hope which were delivered to local cancer patients along with blankets, to provide comfort and warmth while they receive treatment at The Methodist Hospital Cancer Center in the Texas Medical Center. Those who wrote a message of hope received a Subaru and LLS awareness bracelet, to help spread awareness of LLS and Subaru of America's goal to provide hope and care, one gesture at a time. Pictured are Representatives from the Houston Chapter of the Leukemia & Lymphoma Society, Houston Methodist Cancer Center along with Gillman Employees: Eliel Ramirez, General Manager, Wally Mendez, Service Manager and Stacey Gillman President.
---
45th Annual Buffalo Bayou Regatta - Trudi S
Buffalo Bayou Partnership's 45th annual regatta, sponsored by Gillman Subaru, serves as the perfect way to raise money to preserve our city's namesake and help enhance its beauty while also providing for a wild and wet time.The Annual Buffalo Bayou Partnership Regatta, one of the five largest events of its kind in the country, took place on on a rainy March 11th. The Buffalo Bayou Regatta is a 15 mi. USCA Sanctioned race along Buffalo Bayou. At the end of the race participants enjoyed live music, awards ceremony, and had the opportunity to check out the latest in Subaru offerings!
---
Gillman Subaru supports the 2017 Aids Walk! - Melody P
Gillman Subaru was again a proud sponsor of the 2017 Aids Walk Houston on March 5th in downtown Houston. It was an extremely rainy and wet Sunday, but the loyal supporters of Aids Foundation Houston came out in force! Over 1,200 people are newly infected with HIV in the Houston community but every single walker has their own story behind their decision to walk. Each and every person knows that their support helps support local AIDS service organizations that provide life-saving services to thousands of people within our community. Aids Foundation Houston is proud to be aligned with Gillman Subaru and their support of our community.
---
Gillman Subaru supports Houston SPCA - Brian L
On Saturday, December 3, 2016, over 1,000 pet lovers, runners, joggers, and dog walkers fetched their sneakers, a furry friend and joined the Houston SPCA for the 2016 iWalk for Animals at Memorial Park. This year's iWalk, sponsored by Gillman Subaru, featured a 5K Canine Caper and a 1K Pup Strut, amazing demonstrations, pet contests and more!
---
Gillman Subaru sponsors the SCPA iWalk - Stacy F
I am writing to express my profound gratitude for the Gillman Subaru commitment of $10,000 supporting the Houston SPCA's 2016 iWalk for Animals. We were heartbroken by the rain, but thrilled that you were able to join us that day in Memorial Park as our Bandanna Sponsor. The bandannas were fantastic! We were also thrilled that participants were able to receive Subaru tennis balls, Frisbees and toys. My dog loves his Subaru tennis ball. We are so thankful for your kindness and generosity! The event was an overall success with 598 registered participants raising over $325,000 to support our lifesaving programs and services. Your gift will touch far more animals and people than you can imagine through our comprehensive array of animal adoption, shelter, rescue, humane education, foster care and other programs. We are a high-impact organization providing services to more than 50,000 animals each year, including dogs and cats, horses and farm animals, native wildlife and exotic species. Your commitment helps us investigate over 7,000 cases of cruelty and abuse each year and keeps our 24-hour injured animal rescue ambulances on the road every day of the year.
---
Hope Blanket Delivery to Methodist Cancer Center - Gillman S
June was officially "Subaru Loves to Care" month and Gillman Subaru Southwest focus was on the Leukemia & Lymphoma Society partnership. A display box was placed in the dealership showroom where customers could write a message of hope to those fighting cancer. Gillman Subaru staff delivered the messages of hope along with "hope blankets" to the Houston Methodist Cancer Center medical team.
---
GPA receives donation! - Arden T
Greyhound Pets of America is a national non-profit organization dedicated to finding responsible loving homes for Greyhounds, to acquaint the public with the desirability of Greyhounds as pets, and to inform them of the availability of Greyhounds for adoption. I'm pleased to announce that through the Share the Love program, Gillman Subaru South raised $7,188.72 for the Greyhound Pets of America. Accepting the check on behalf of the Greyhound Pets of America is Arden Tucker, President and Jeff Tucker, Volunteer. Also pictured, Patrick York, COO Gillman Automotive Group.
---
Buffalo Bayou Partnership Receives Donation - Trudi S
Subaru South selected the Buffalo Bayou Partnership to be a beneficiary of the Subaru Share the Love Program. Buffalo Bayou Partnership is responsible for revitalizing and transforming Buffalo Bayou. Our projects have included footpaths, trail lighting water features and new pedestrian bridges along the Buffalo Bayou and Buffalo Bayou Park. I'm pleased to announce that through the Share the Love program, Gillman Subaru South raised $7,591.77 for the Buffalo Bayou Partnership. Accepting the check on behalf of the Buffalo Bayou Partnership is ANNE OLSON, President. Pictured with Stacey Gillman Wimbish, President Gillman Automotive Group and Patrick York, COO Gillman Automotive Group.
---
Subaru Loves the Greyhounds! - Arden T
Greyhound Pets of America-Houston (GPAH) is a group of dedicated and passionate volunteers who work tirelessly to fulfill the mission of finding responsible and loving homes for retired racing greyhounds, educating the public on the suitability and availability of greyhounds as pets, and acquainting them about how this beautiful and noble breed makes an excellent and loving pet. Last year, GPAH partnered with Subaru and Gillman Subaru Southwest (GSS). GSS has been amazing in providing us support by allowing us to show off our greyhounds on its showroom floor and by helping us advertise our mission. When GPAH was chosen by GSS as one of its 2015 Subaru Share the Love charities, we were very humbled. The support and enthusiasm shown by Eliel Ramirez and all the employees at GSS have been wonderful! GPAH will continue to find homes for these wonderful hounds, in part because of Subaru's undying commitment to helping animals. GSS and Subaru are terrific partners, and GPAH could not be more proud to be part of their community. The kindness and generosity we've been shown has been fabulous!
---
Gillman walks with thousands to end AIDS - Melody P
On Sunday, March 8, 2016, Gillman Subaru and over 10,000 Houstonians walked to end HIV/AIDS within our lifetime. Over thirty-eight corporate teams, including Gillman Subaru North and Gillman Subaru Houston filled Sam Houston park in Downtown Houston then were led by Mayor Sylvester Turner down Allen Parkway to the finish line. As one of AIDS Walk Houston's event sponsors, Gillman's contribution gave eleven local AIDS Service Organizations a platform to raise awareness and funds to help end the disease. Donations will provide housing, medical access, mental health care, food, education and testing in Houston. AIDS Foundation Houston, Inc. and all of AIDS Walk Houston's benefiting agencies appreciate the support of Gillman's passionate employees!
---
Gillman Supports Buffalo Bayou Regatta - Trudi S
A record number of participants over 800 in 2016 paddled in the Buffalo Bayou Partnership Regatta, presented by Gillman Subaru. This spring event has been a Houston tradition for 44 years and has grown to become Texas' largest canoe and kayak race. Special thanks to Gillman Subaru for being our presenting sponsor for three years in a row! This year was exceptional with Gillman providing numerous volunteers for the Subaru launch crew at the start of the race, as well as 22 employees and family members participating in the race itself. At the finish line festivities, paddlers were greeted with live zydeco music, a rock climbing wall and a relaxing massage after paddling the 15-mile stretch of Buffalo Bayou. With Gillman Subaru's support, Buffalo Bayou Partnership continues its mission to revitalize, maintain and activate Buffalo Bayou Houston's most significant natural resource!
---
Youth Soccer Team and FFPS Soccer Tournament - Gillman S
Gillman Subaru in South Houston team sponsored another team composed of young, talented soccer players and a highly competitive FFPS Soccer Tournament. The kids were rarin to go and ready to win when they hit the field. The folks at Gillman Subaru in South Houston truly shared their love in assisting these dedicated players and supporting one of the top soccer leagues in the nation.
---
Gillman Supports Community Pet Vaccinations - Eva M
I recently began doing the Hotline for Lone Star's Fixing Montgomery County which offers discounted spay and neuter services as well as vaccinations. I receive many calls and all are very grateful for these services. One particular call came recently which I would like to share. I received a call from a young mother of two with a husband who is very ill. She is the only wage earner in the family. She wanted her dog spayed. I called her back. Two days later she returned the call apologizing because her husband was back in the hospital. With all on her plate, I am humbled and in awe that she has her dog's welfare on her mind as well. It gives me pause to be so very thankful that the monies raised through events, such as those at Subaru, we are able to help people who want these services for their pets. It makes a great difference in their lives, their pet's lives, and to the community as a whole and I am grateful to be a small part of it. Thank you!
---