The 2022 Carfax Award
CarFax says dealers who win this award are being celebrated for their commitment to building consumer confidence through exceptional service and customer care.
The Subaru Love Promise Award
At Gillman Subaru Southwest, we make customer satisfaction and community service some of our top priorities. We're not just a place where you can find a new Subaru car. We're also committed to becoming an important part of our community as a whole.
That's why we're honored to be the recipient of the 2021 Love Promise Customer and Community Commitment Award. This is an award reserved exclusively for Subaru retailers who set themselves apart.
The 2022 Kelley Blue Book Brand Image Award
"New cars, trucks, and SUVs represent a lot more than mere transportation. They serve as ways for consumers to say something about themselves while going from Point A to Point B. For many drivers, the goal is to get away from it all. For others, an SUV is essential for an active outdoor lifestyle. And for others yet, having an all-electric vehicle is the ultimate goal.
With this wide variety of shoppers' interests, gauging this popularity is no easy task. The Kelley Blue Book Brand Image Awards use the opinions from more than 12,000 in-market, new-vehicle shoppers. These are informed consumers who extensively research their vehicle purchase on KBB.com. We follow this audience through our annual Brand Watch Study, which compiles consumer trends and attitudes on new vehicles available today. This year, the Brand Watch Study samples both mobile and desktop users. This allows the study to reflect the views of a more diverse group of respondents."  - kbb.com
The 2023 IIHS Top Safety Pick
These awards identify the best vehicle choices for safety within size categories during a given year. Larger, heavier vehicles generally afford more protection than smaller, lighter ones. Thus, a small car that qualifies for an award might not protect its occupants as well as a bigger vehicle that doesn't earn the award.
Subaru OEM Accolades & Awards
The ACSI: #1 In Satisfaction      The ACSI: #1 In Dependability      The ACSI: #1 In Product Quality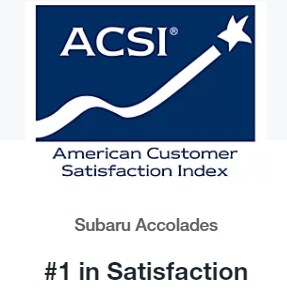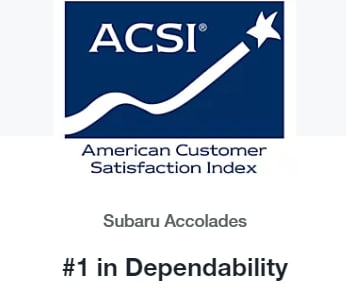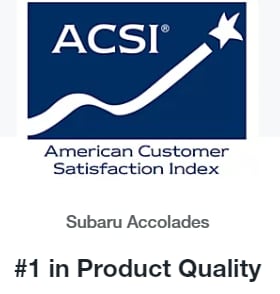 Subaru dealerships all want to be a positive presence in their community. The Love Promise Award highlights those dealerships that succeed in their initiatives. The community service carried out by Subaru dealers generally falls into five categories:
Subaru Loves the Earth: These are all initiatives that are designed to protect the great outdoors and keep our favorite parks, camping sites, and other parts of nature in pristine shape.
Subaru Loves to Care: For these initiatives, dealers work with groups like the Alzheimer's Association and the Make a Wish Foundation to raise money and help people suffering from health problems.
Subaru Loves Pets: These initiatives help our furry friends, whether they are domesticated pets or animals who live in the wild.
Subaru Loves Learning: These efforts help make the pursuit of knowledge and learning more available to as many people as possible.
Subaru Loves to Help: Subaru dealers also help by donating or raising money for initiatives like Feeding America and local organizations that serve the needy.