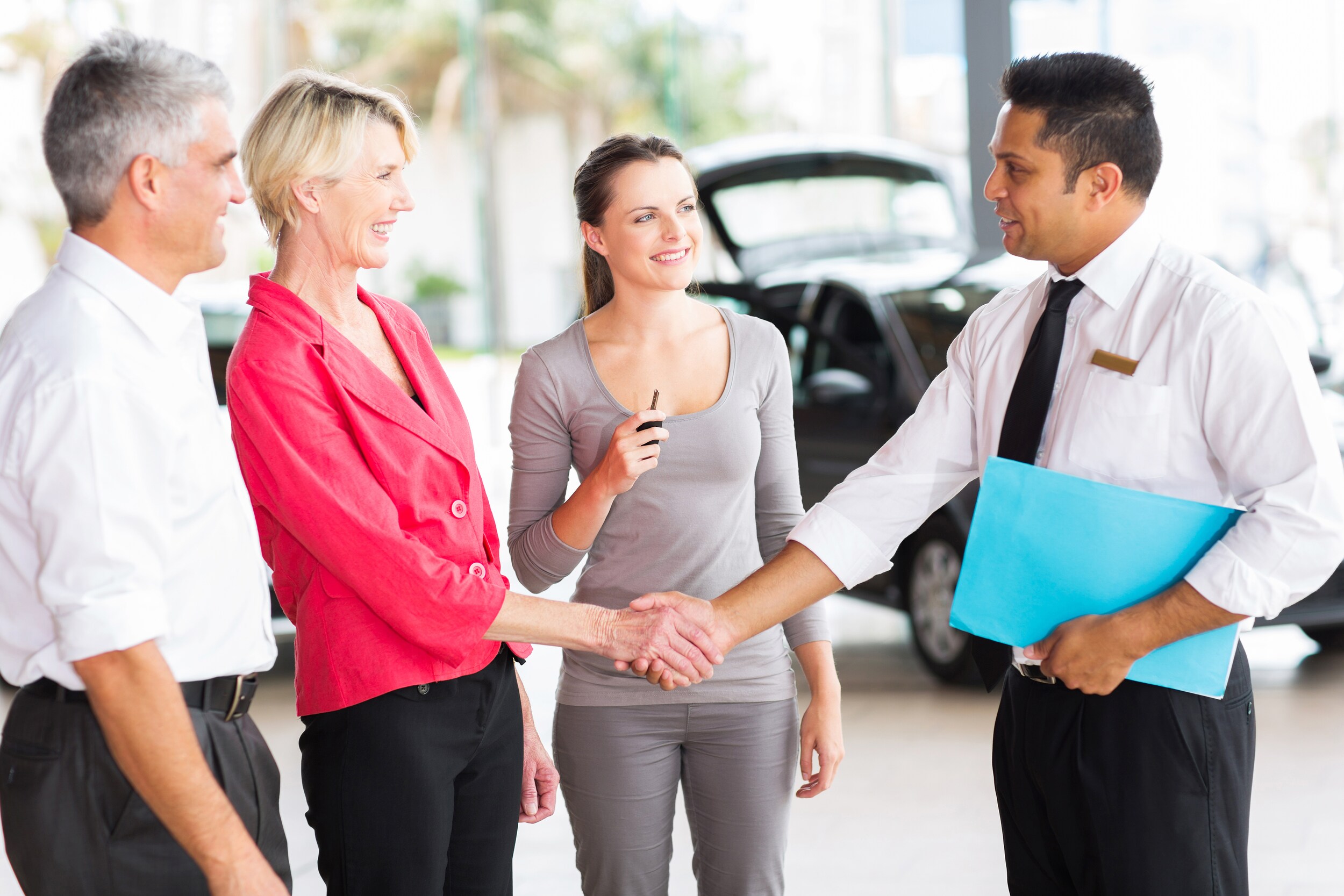 _______________________________________________________________________________
Date: Thu, Feb 5, 2015
Subject: Fwd:
To: Chris Gillman
Cc: ellen

Chris:  Please see the photograph in the accompanying e-mail.  Your general manager, Eliel Ramirez, then a very happy customer [me], and James Rutledge, great salesman.  The only one missing in the photograph is Wayne Young, who made the financing absolutely painless. This photo was taken last Saturday just before I drove off in my new car. 

To say that I'm happy with my XV Crosstrek is an understatement.  What made it so delightful was the extraordinary attention and service that I received from your team.

Thank you for facilitating my visit to your very fine dealership.

Best regards,

Liz 
Submitted via email
___________________________________________________________________________

I bought a Subaru Forrester last week from James with Tim taking me through the process as the Business Manager. This was one of the most pleasant car buying experiences that I have encountered. Both gentlemen were consummate professionals in every way. They were knowledgeable, courteous and patient with my husband and me. I will be a repeat customer because of these two employees. Please pass this on to Mr. Elostaz so he will know what excellent employees he has. Thank you.

___________________________________________________________________________
Mr. Ghoreishi,
 
I am sending this email to let you know the type of service I received from Gillman Subaru was absolutely the best I have ever received from any auto dealership.
 I am 65 years old next month, have been in outside sales for over 35 years, have always purchased a new vehicle every 2 years until I bought my Subaru Tribeca B9 in 2006.  I loved this vehicle so much, I have kept it even until now with absolutely no problems, just keeping up routine maintenance.  I brought my vehicle in to have a radiator hose changed out due to another service company that I stopped in  to to get an inspection sticker and had drove in with a leaking radiator which I could not move until I got a new radiator at their shop.  They fixed the radiator but said I needed new hoses which they could not get until a week later if I wanted to come back. It, needlessly to say, was a very expensive ordeal and took all day from 12:15 P.M. until almost 7:00 P.M. while I had to sit there with no vehicle.  I called made an appointment with Mr. Floyd at your Gillman location on June 27th to bring my vehicle in at 10:00  a.m. on the 28th of June.  At that time, he suggested since I had never had a complete check over and my car had almost 79,000 miles on it to do the 60,000 mile service check which would check for any other problems.  I wanted to do this since I was to go to Dallas e next week and did not want to get in trouble, I am very glad I did!!  I had it there at 10:00 a.m., in which Floyd took me in, seated me in the lounge area as he had my car inspected.  He came and got me to show me everything that they thought was necessary to get my car up to date on services.  He introduced me to Mr. Craig, your technician, and they both showed me underneath the vehicle everything that needed to be fixed as preventive maintenance in order for me not to get charged much higher costs for not taking care of leaks and dry rot and split belts, hoses and bushings.  I did have several problems which would soon become a major cost to me if not corrected at this time.  After checking everything, which by the way, my hoses on the radiator that I originally came in to fix, did not have to be changed, they were in good condition, he worked up a most important to what could wait a few months to fix proposal for me. I chose to get everything fixed that day.  Since it was going to take until the next day to finish, due to ordering parts, Floyd gave me a 2012 Subura Outback Service vehicle to use while I was without my vehicle, (which by the way, I fell in love with). Floyd then called me the next day and told me to come and get my car, which had been washed and cleaned inside and out upon arrival and out front for me to take home.  My bill was almost $3,000 which would have been a little more for all the service work they did from checking brakes, flushing transmission, changing strut bushing, etc.  Floyd brought my cost down to help me out to a little under $3,000.00.  I was in and out quickly after paying my bill.
 
My experience with your service department was the best I have ever had.  Both Floyd and Craig were very professional and courteous and treated me like I was their only VIP customer!  Your other people that took care of my charges were also very nice.  I thank you for such service and will always use Gillman as my service department, which by the way,  I live in Pasadena which is quite a distance over there even though taking the Sam Houston tollway wasn't too bad.

Thank you again for having great service assistants and technicians as Floyd and Craig!
Until next time,
Gail
___________________________________________________________________________
Wally,
 
GREAT job!  You make me proud!

Jerry Reynolds "The Car Pro"
President, Car Pro Radio Networks

Syndicated Talk Show Host
Newspaper Columnist
Auto Industry Expert
The Car Pro Radio Show
___________________________________________________________________________
 
Jerry,
 
I must say this was the best experience I have ever had when trying to purchase a vehicle.  Wally and Romeo at Gillman Subaru Southwest made the whole experience feel like I always wanted to be treated, and also my daughter was very impressed.  She was very nervous and did not know what to expect, but in the end, Wally treated like his own daughter making sure she was well taken care of.  Wally let her take the car home, gave her a full tank of gas, and quarters so she would not have to wait for change on the road home.  I cannot Thank You enough this has renewed my confidence that there are some legit dealers out there. All I can say again is THANKS!

__________________________________________________________________


Dear Mr. Elostaz,
My family has always been a Toyota family until recently when the need for an AWD vehicle came up and we were recommended to try Subaru. I was quite nervous about trying a new auto brand but your Internet Sales Manager Mr. James Rutledge spent weeks explaining the product to me and I left your company feeling very happy and at ease about my new purchase. I contacted several dealers both here in Houston as well as in Cheyenne (where I'm relocating to) and I finally decided to buy my new vehicle from your company since I couldn't find the same level of excellent customer service or great deal offered to me by Mr. Rutledge anywhere else. My father came along with me when I went to pick up the new car and he was very impressed by Mr. Rutledge as well. We have bought several new cars from other dealers in Houston and we have never had a sales representative who spent as much time with us as Mr. Rutledge did. I know that my family will definitely think of Subaru and of Mr. Rutledge first the next time we need to buy another vehicle.

_______________________________________________________________________________________
After moving to Nashville and dealing with the local Subaru dealer here I have a new appreciation for what great service we received at your dealership (Gilman Subaru Southwest) from people like Wally and David (both of them: sales and service). We are seriously considering buying our next Subaru long distance when we turn in our lease in January.
__________________________________________________________________


Good Afternoon,

My name is Stephen Williams and I would like to tell you just how awesome Wally and Tim have been to my wife Stella and I. We have two Subaru vehicles, a 2007 WRX and a 2010 Legacy. Both were purchased at the Gillman Subaru Houston Southwest dealership. Back in June I was laid off and I was unemployed for about a month and a half. I also had at that time a family emergency that cost me my entire savings. My mortgage company Wells Fargo would only allow my wife and I to restructure or modify our current mortgage loan instead using other options. That left us in a vulnerable position because they also reported on our credit that we were delinquent in our mortgage loan, as if we were refusing to pay our note. Then the worse happened. At the time my wife and I had a Toyota Camry. While driving me to my place of work for a business trip, the Camry failed to stop, even the emergency brake failed when pulled, and the car uncontrollably hit the rear end of another person's minivan from a distance of over 30 yards away. It was like being on a rollercoaster. I will NEVER buy another Toyota product ever again. After the accident a Toyota corporate employee contacted me and only tried to talk me into purchasing a new Camry, offering a large discount and incentives. I refused and I picked up the phone to call two people and an automaker I know and trust. Wally and Tim at Gillman Subaru Houston Southwest and Subaru. I have not had a single issue with my WRX and I know many in NASIOC that do not have serious issues. I also know that Subarus are better engineered, the company is very responsible and helpful, and best of all the cars do not drive uncontrollably as well. Tim told me to just come down and he would take care of us. He had the perfect Subaru Legacy for us and Wally spent hours on the phone going to bat for me and my wife. No one would give us an auto loan because of Wells Fargo's reporting. Wally went way above and beyond his duty and plead a case for us on his behalf. He let the Finance department know that we were good people, we pay our bills on time, and was able to show that we were able to afford the vehicle. Even my credit union thought we were toxic and would not help us. Without Wally's help my wife and I still would not have a second vehicle. Due to our multiple jobs and the fact that we live in Houston, it is impossible to get around town on time anywhere without a vehicle. I will only buy Subaru's and I will only buy from Wally, Tim, and Gillman. We are customers for life and I cannot wait till I am able to get that new WRX as well! Thank you all from the bottom of our hearts.


__________________________________________________________________


Dear Tim,





It was such a pleasure doing business with you and everyone there.  You all took such good care of me and got me on my way.   I felt "safe" with you guys, know what I mean?  Here I was, a woman alone, in a strange city, picking up a vehicle sight unseen, doing business with people I'd never spoken to before, hey, I was just a little bit nervous.





I can't remember the finance guy's name but he was terrific, too.  I was afraid I'd get down there and he'd try to sell me all this stuff I really didn't need (or want), thus increasing my payment.  But he didn't.  Just the "dent and scratch" deal, which I'm now glad I got.





The two of you are in my heart!  I can't say thank you enough.





My emergency tire kit and jumper cables fit nicely in there, by the way. Out of sight.  Nice.  I filled up for the first time today and it took way more gallons than my '99.





I'm going to recommend your dealership to anyone who is interested in a Subaru vehicle.  Can't wait for the survey!!



__________________________________________________________________


Mr. York,
I wanted to take the time to write an email about the service I received at the Gillman Subaru dealership at the beltway and 59.  I have never owned a Subaru prior, and I have to say that I was thoroughly impressed with every aspect of my purchase.  Tim Jamerson made me feel like the only thing that mattered, was me getting what I want, and the purchase of the Outback was as simple as can be.  We started with a phone call, and then moved to a test drive and within a few hours, I was driving my new 2010 Outback Limited home.  I cannot express how impressed I am with Tim's ability to work with customers.  He is a valuable asset and I feel completely confident that I will be a repeat/referring customer of his and this dealership in the future.  In past buying experiences, I spent an inordinate amount of time in the finance office getting what I consider to be the hard sale on extras.  I worked with Darrin Jackson, and again I felt like I was the most important person in the office.  He paid attention to everything I said and made recommendations that made sense and I simply said yes.  I didn't feel like I was pressured, but I did buy a 100,000 mile warranty and I didn't feel abused in the process.  That makes me a VERY SATISFIED CONSUMER.  As a customer service manager myself, I know when I see quality service, and I was absolutely blown away at the level of service all the way around at this dealership.  It truly broke the mold from my previous car buying experiences.  I have had the Outback for 2.5 days now and I love it.  It is a great vehicle at a great value, and I am supremely confident in my purchase, largely due to Tim and Darrin taking such good care of me.
__________________________________________________________________


Hi Naser,


My name is Nancy Quinn and I am member of the E-Contact Group in the Customer/Dealer Services Department at SOA. We received a message from a Subaru owner complimenting a recent sales experience at your dealership and we wanted to share these comments with you. 
Below, you will find a copy of the feedback we received from the customer. Please share this information with the James and all of those involved with the handling of this customer.
On behalf of Subaru of America, I would like to thank you for all of your efforts. Thank you very much for all your hard work and keep up the good work!


Best Wishes,
Nancy Quinn
Subaru of America, Inc.


---
After a lot of looking around we bought our first Subaru today (a new Outback). I talked to a lot of different car dealerships and salesmen during this process. I'm not sure this is the best forum (I'll also be writing an online review) but I thought there are a few things I should tell you directly. I really hate having to go in to car dealerships, I really hate talking to sales people and their manager(s), but today was different. I bought a Subaru from Gillman Subaru Southwest in Houston Texas. Before going to Gillman Southwest I actually went to their Gillman Subaru North Houston location and was less than impressed and had pretty much given up on their dealership all together; that is until I received an email from James R at the Southwest location. Earlier in the week I had emailed him the information regarding the Outback I wanted, he emailed me back a fair price and the window sticker of the car, I called and set up a time to come view the car and talked to the sales manager Naser (very kind man) went in the following day and bought it. Subaru should feel fortunate to have people like James and Naser as representatives of the Subaru brand. I had not met either one of these gentlemen before I bought my outback, but i left the dealership today wishing there was some sort of award i could give the two of them for making such a notoriously dreaded process simple and easy, thank you again James and Naser. Just thought you guys should know

___________________________________________________________________