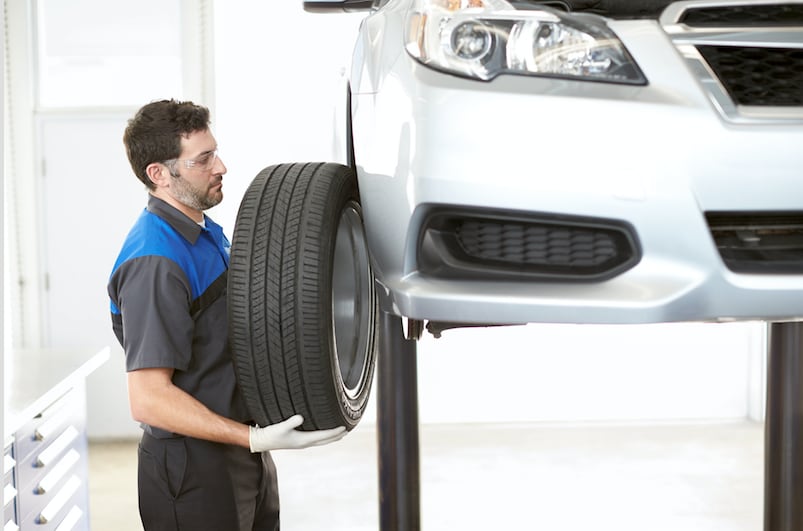 When it comes to services performed at our Subaru service center, tire service ranks as one of the most important. After all, tires work hard supporting your vehicle and gripping the road. Tires that have not been properly maintained can be a safety hazard as well as negatively impact vehicle performance, especially in off-road-focused vehicles like the ones made by Subaru. There are a few different types of tire service that we complete here at our dealership, and we would like to share some of the most common.
Tire Rotations
A tire rotation is one of the most common types of tire service performed at our Subaru tire center. Tire rotation means periodically changing the position of each of the tires on your vehicle. You should rotate your tires as recommended by Subaru, or around every 5,000 miles. For many car owners, this means tire rotations should take place at the same time as oil changes. Tire rotations are important because it ensures that tread wear is evenly spread across all four tires and that tread life is maximized. It also keeps traction and handling uniform across all tires, which helps with safety and performance.
Other Types of Tire Service
In addition to rotations, our mechanics perform a couple of other types of service.
Tire changes: Every so often, your car's tires need to be changed. You can choose from off-road tires, all-season tires, and performance tires.
Tire pressure checks: Maintaining proper tire pressure is important for both safety and performance. Let our mechanics ensure that your tire pressure is at the right level.
Schedule prompt and quick Subaru tire service at our Subaru service center today.