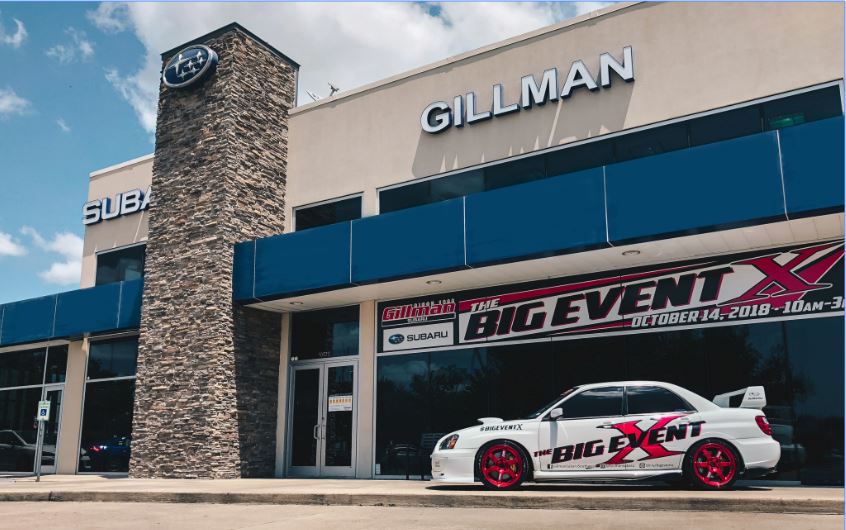 There is plenty to love about shopping for a new Subaru car at Gillman Subaru Southwest. Throughout the years, we have been working hard to bring our customers a memorable buying or leasing experience as well as all of the automotive support they need. This year marks the 10th anniversary of
The Big Event
and we would love to have you stop by to pay us a visit and check out the new
2019 Subaru Ascent
or any of the other models we have in stock at the same time!
When: Sunday, October 14th, 2018 from 10 am to 3 pm
Who: Rally Team Drivers David Higgins, Craig Drew, and Patrik Sandell.
Where: Gillman Subaru Southwest located at 10575 West Sam Houston Pkwy South in Houston, TX
The Big Event
This is an event that is tailored to Subaru enthusiasts and we are excited to bring you this gathering for the 10th year in a row. As the biggest event yet, this is free for all spectators and open to the general public. There will be plenty of amazing prizes to be given away and a variety of things for the whole family to enjoy, including face painting, interactive games, a bounce house, complimentary food, Tito the DJ, car show, and meet and greets with Subaru Rally Team USA drivers- David Higgins, Vraig Drew, and Patrik Sandell!
Of course, this is an event that you do not want to miss and you can guarantee your admission by RSVPing on our Facebook event page, by registering on our website, or by calling our sales team at (888) 712-3364.
The Big Event only happens once a year and this is the perfect time to learn more about the Subaru brand and to share time with other Subaru enthusiasts. We look forward to seeing you in October for The Big Event! In the meantime, you are more than welcome to come by to check out the
new Subaru models
and incentives at our Houston, TX Subaru dealership.